Thinking about ETS? Then read Alisha's real life experience. Not sure what what this surgery is? then read on…
Excessive sweating occurs when the sympathetic nerves become over active. These nerves can be interrupted in several ways by surgery and the procedure bears the name of endoscopic thoracic sympathectomy or ETS. The 12 segments of the sympathetic nerves that are found in the thoracic cavity play a key role in the operation and their name indicatives range from T1 to T12. Different forms of hyperhidrosis are assigned specific T indicators (facial sweating may be a T2 or T3, for example).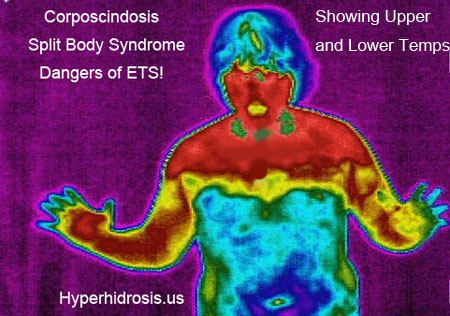 In the image above, you can see a thermal image of the body in conflict, one half shows a completely different temperature than the other half which makes a person feel as if their body is slit; this is called Corposcindosis, or Split Body Syndrome. Many sites try to avoid mentioning the poor success rates of ETS Surgery and horrible side effects that can be associated with this risky procedure!
The ETS operation itself is performed through some small incisions located in the underarm area while the patient is under general anesthesia. The risks involved by this procedure are low and the beneficial results are usually satisfactory. There are three main methods of performing ETS sympathectomy, each with its own advantages and disadvantages:
Sympathectomy by clamping or clipping ETS (ETS -C / ESB)
This method does not involve the cutting of the sympathetic nerves. Instead, the surgeon interrupts their activity by applying a titanium clamp to the nerve, thus stopping their activity. The clamp exerts pressure on the nerve and the signals the nerve produces don't reach the sympathetic nerve endings. This is method that has a positive effect in the sense that the sympathetic ganglia are not destroyed. This leaves the patient with the possibility of having the nerves reconstructed in the future by simply removing the titanium clamp.
Various forms of excessive sweating can be removed with this method. Selected segments of the sympathetic nerves are cut during this procedure. This leaves very little chances of a successful reconstruction of the nerves in the future.
The sympathetic nerves are surgically cut with electrocautery or surgical scissors. The difficult reconstruction of the nerves represents this method's negative effect. ETS Insurance facts.
The variation of the levels of classification for ETS depends on the type of hyperhidrosis that the patient presents:
Facial Blushing is T2
Facial Sweating is T2 or T3
Hand Sweating is T3 or T4
Underarm Sweating is T4 or T5
Side Effects of Sympathectomy Surgery
Compensatory sweating is unpredictable and cannot be precisely identified before surgery. The intensity of this side effect varies from patient to patient. Many sympathectomy patients only experience very little moisture and sweating and hot weather seems to favor this phenomenon.
In spite of sympathectomy surgery side effects, most patients agree that they would rather experience compensatory sweating than the condition they had before surgery. Patients are willing to trade a more severe hyperhidrosis or extensive facial blushing for the effects of compensatory sweating. The number of patients experiencing aggravated forms of this side effect is low. In the cases where compensatory sweating is exceeding the expected levels, the titanium clamp may be removed. This reverses the surgery and the side effect diminishes in time. However, this operation must take place soon after the surgery, as after a few months the chances of reversing the operation are very low.
When the denervation area affected by the surgical procedure of sympathectomy is extended, the side effect of compensatory sweating also increase in intensity. The initial methods of performing sympathectomy implied that a large segment of the sympathetic nerves was cut. The side effects were also high, in accordance with the extent of the surgery. Modern methods greatly reduce the levels of compensatory sweating. The identification of specific hyperhidrosis conditions is now more accurate. By targeting the exact section of the sympathetic nerves, the surgeon doesn't allow compensatory sweating to aggravate.
Successful treatment of compensatory sweating can also be achieved by the use of medication. Robinul and Ditropan are used to treat the side effect with good results. Several other side effects related to the sympathectomy surgery were observed with patients. Nerve damage is a possible risk, while bleeding and infection may also occur. Patients have also experienced post surgery rib pain and dryness of the hands or face. A decrease in the heart rate was also signaled by some patients. Other rare complications of sympathectomy include damage to the lungs and Horner's syndrome. These are very rare complications as the new surgery methods have greatly improved over the years.
ETS Insurance Coverage
Some insurance companies consider treatment of intractable, disabling primary hyperhidrosis (excessive sweating) with Botox (botulinum toxin type A) or iontophoresis (electrophoresis, Drionic device) medically necessary when all of the following criteria are met:
* Topical aluminum chloride or other extra-strength antiperspirants are ineffective or result in a severe rash; and
* Member is unresponsive or unable to tolerate pharmacotherapy prescribed for excessive sweating (e.g., anti-cholinergics, beta-blockers, or benzodiazapines); and
* Significant disruption of professional and/or social life has occurred because of excessive sweating.
Insurance Coverage Beyond Botox and Iontophoresis
Insurance companies may consider the following surgical treatments for hyperhidrosis medically necessary for members who meet the above-listed criteria and have failed to adequately respond to treatment with Botox and Iontophoresis:
Open thoracic sympathectomy
Video-assisted endoscopic thoracic ganglionectomy (ETG)
Endoscopic sympathetic ablation by electrocautery
Chemical thoracic sympathectomy
Thoracoscopic sympathectomy
Endoscopic thoracic sympathectomy (ETS)
Video-assisted thoracic sympathectomy (VATS)
Excision of axillary sweat glands.
Lumbar sympathectomy
Tumenescent liposuction for axillary hyperhidrosis
Alisha's ETS Surgry
I had ETS (nerve cut) done in 1998 for my EXTREME hand sweating. This is my story. It represents my experience before and after ETS. Your experience may be different. My story may change your mind about going through with ETS or it may finalize your decision to get it done. In either event, please do your research and be informed before any decisions regarding hyperhidrosis are made!
I was 22 years old at the time of my ETS and felt my social life was greatly being affected by the sweating. My earliest memory of sweaty hands is when I was in 4th grade. I remember my teacher looking at me in disgust and in front of the whole class, sternly telling me to go wash my hands as if I had purposely drenched them! From that point on, I was made to wash my hands with soap and water each and every time I was working at my desk. We had a sink in our classroom, so everyone knew when I was at the sink washing, it was because my hands were sweaty! I was also required to keep a stack of paper towels at my desk to use so that the sweat wouldn't absorb onto the paper that I would turn in. My mother took me to doctor after doctor looking for help. I was prescribed medications that made me drowsy, extremely thirsty, or spaced out – all without results. I was prescribed a drionic machine that burned my hands each time I used it (this was back in the early 80's when technology with such machines wasn't what it is now).
My teenage years were even more stressful. During a time when you're already going through hormonal changes and trying to figure yourself out, I also had the stress of "hiding" my sweating secret. I didn't have a boyfriend in high school. I had many boys ask me out on dates, but I always made excuses because I knew I'd be traumatized by any attempts to hold hands. Proms and Homecoming dances were the worst in high school! All the stylish dresses were strapless and my underarms were just as bad when it came to sweating. If I chose a dress with sleeves, the pit area of it would be completely drenched before I walked out of the house! Shoes? Forget about it! Socks and sneakers were the only thing I could wear! Sandals were out of the question and the rare times I wore heels, there were puddles of sweat in them by the end of the night! I remember I had to professionally dye a pair of heels in a burgundy color to match my homecoming dress. This was a mistake! By the end of the night, my feet had sweat so bad that it seeped through to the exterior of the shoes causing them to drip the dye!!!!! Everyone knew where I had been that night – all they had to do was follow the trail of burgundy dye on the gymnasium floor! Additionally, it took me more than a week to scrub the stained dye off the sides and tops of my feet!
Job interviews were the worst! Denim was the only article of clothing that seemed to "blot" the sweat from my hands, but who wears denim to a job interview?! I hated the unavoidable handshake only to have the hiring manager wipe his own hand on his pant leg afterwards. The person shaking your hand rarely says anything about your sweaty palm, but they notice and it's that quiet awkwardness that intensifies the anxiety. One time, before walking into the building for an interview, I rubbed my hands all over my front tire until it was covered in black tire filth. When I walked into the building to meet with the interviewer, I showed him my hands and apologized to him for not shaking his hand until I was able to use the restroom to wash up. I told him the grime on my hands was from needing to put air in my tires prior to our scheduled interview. When I returned from the restroom with clean hands, they were a bit damp from them starting to sweat again, but at the very least, he would have thought the dampness was due to me having just washed my hands! Unfortunately, I had no excuse at the end of the interview when it was time to shake his hand again with sweat dripping from my own. Needless to say, I wasn't offered the job.
By my early 20's, I had had enough! Enough of the steering wheel slipping from my hands in the middle of a turn, enough of me dropping trays of food or beverages while working (I was a waitress), enough of being antisocial fearing I would have to shake someone's hand, enough of being afraid to turn on or off a light switch in fear that it would electrocute me, enough of turning down dates in fear that he'd want to hold my hand, of wearing only denim, of not being able to raise my arms for fear of someone seeing my soaked pits, of not being able to go barefoot or wear flipflops in the Florida summer, and enough of not being able to live life freely without the constant efforts to conceal my problem. It was invading and ultimately destroying every facet of my life!! I researched for a cure and one day I finally found it! I was ecstatic! At the time and to my knowledge, there were only a few doctors performing ETS in the U.S., so in order to get the procedure done I had to fly from Florida to Houston, Texas. I didn't care! I spoke to the physician, his office staff, received literature on the procedure itself, and booked an appointment for a consultation. The doctor warned me that ETS was only for extreme cases and he would be the one to determine if my condition was indeed extreme. I wasn't at all worried whether I would be considered extreme. I knew I would be! Sitting in the exam room in Houston was exciting! When the doctor walked in for the first time, he extended his hand to shake mine and I immediately shook hands without hesitating because I knew this was all the proof he needed to determine I had an extreme case of hyperhidrosis! As my hand touched his, he immediately looked at me, smiled, and said, "You weren't kidding!" It felt good to be understood! He said ETS would completely cure the hand sweating but only minimize the foot and underarm sweating. The next morning I was being rolled into the operating room and my life changed from that very moment!
I woke from the surgery and immediately noticed my dry, warm hands and feet! Unfortunately, the doctor came in shortly after I woke up and explained that he had "tweaked" a separate nerve and as a result, I had mild horner's syndrome. I immediately asked for a mirror to see this "mild horner's syndrome". It was ghastly! My left eye barely opened, no matter how hard I tried! He assured me that it would get better with time. I spent nearly three months checking the mirror everyday for hints that it was getting better. He was right. It did get better. It soon returned to a state where it is now unrecognizable unless I've had one too many glasses of wine or if I'm extremely tired. Sometimes I can tell in photographs but no one has ever made a mention of my "little eye" (except those who know I have horner's syndrome). I had moderate pain in my chest and it was difficult to take a deep breath for the first week after the surgery. Also, the incisions he made under my arms were a bit sore for the first week. I couldn't believe the dryness of my hands!! Every so often, these phantom tingly feelings would occur in my hands, similar to how my hands would feel right before they would start to sweat. I would get nervous thinking the surgery was a failure, but my hands never would sweat! My feet and underarms, however, weren't so lucky. They began sweating again a few weeks after the procedure but not as much or to the degree that they had beforehand. The moments of tingly-ness in my hands occurred for the first month or so after ETS. The only immediate downside (aside from the horner's syndrome) that I noticed was constant dryness in my hands. I had to carry a travel sized bottle of hand moisturizer at all times for the first six months after ETS. This was nothing compared to the years of embarrassment I had endured with sweaty hands. That was until the compensatory sweating (CS) started. I can't be certain, but I think it was somewhere between six months to a year after ETS that the CS started. It targets my torso, groin, and buttocks but only during high stress, anxiety, or extreme heat. Well, I live in Florida, so everyday is extremely hot! I have to be conscious of what I wear depending on the weather, the company, and my anticipated anxiety level or else I'll have obvious and embarrassing sweat stains on my clothing as a result. When I'm around close friends and family, I don't have CS. Nor do I have it when I'm at home doing my own thing. Right now as I type this, my body is completely dry from head to toe. Most times I won't have CS, like if I'm running errands, out on the town with my husband, or doing anything that doesn't require social or group interactions. Typically, it's only when I'm around other people in a group setting that the CS starts. As soon as I remove myself from the group situation, the CS stops. Outdoor picnics or BBQ's are a big trigger, especially here in Florida. The only advantage I have is that everyone sweats in humid 95 degree weather and it wouldn't cause anyone to think twice if they noticed the back of my shirt wet with sweat during an outdoor event.
Around the same time the CS started, I started experiencing Gustatory Sweating (GS). For those of you who haven't experienced this lovely phenomenon, it is sweating on the face while eating and it is most inconvenient when eating out in public places! I manage it by always keeping a napkin (preferably paper napkin) in my hand during the entire meal and frequently blotting around my mouth throughout the meal. Every third blot or so, I'll blot my nose or forehead. I don't find it to be too noticeable, especially if I time the blots when others are looking down at their own plates. Not to mention, I can always use the excuse that the restaurant is warm or the food is too spicy, which can both cause sweating. Again, and weirdly enough, GS only happens when I'm eating out with others in public! When I'm eating a sandwich in the comfort of my own home, I don't get GS! Take note that I think my CS and GS are mild in nature. I am not at all downplaying those who have the severe and debilitating forms of CS. I can only give you my own experience and after reading so many testimonies, I consider myself one of the lucky ones. Unfortunately, there's no telling where on scale of severity you'll have CS and GS. It is pretty much guaranteed that you'll get it, but it's a gamble on how severe it will be. Aside from the horner's syndrome, CS and GS, I have not experienced any other side affects. That is not to say that I won't down the road. I am learning that side affects can pop up years after the procedure, so that is something I would keep in mind prior to deciding on ETS.
It's been 13 years since my ETS for sweaty hands. Do my hands sweat? No. Do my feet? About 50% of the time. What about my underarms? About 50% of the time. Do I have CS & GS? Yes, it's mild to moderate and occurs about 80% of the time but only in social settings. Is it invading and destroying my life like my sweaty palms did? Absolutely not! I take steps to conceal the CS with adequate clothing choices. Would I get ETS if I had it to do over again? Maybe, maybe not. I would look into non-permanent, non-toxic solutions first, but if I had exhausted all of them, I'm not sure if I'd do it again. I sweat on a larger surface of my body now, which is much harder to conceal in extreme, high stress conditions. Granted, it's not often I'm in situations of high stress or anxiety, but the few times I have been (my wedding, parties where I've been the guest of honor, public speeches, or social gatherings, etc.) it's more of an effort to conceal CS. I sometimes wonder what it would be like to not have CS and to have sweaty hands again. Sometimes I think I'd welcome a reversal and just be upfront with people before shaking their hand. Other times, especially when I'm not having CS, I like the feeling of feeling "normal" and sweat-free. There are no guarantees and I guess there are no complete happy endings with ETS. For now, I remain in the middle on ETS. Remember: only you can decide what is best for you. ETS is an elective surgery and it's not without complications and/or side affects. You are your own advocate! Do your research, be informed, and weigh all options! Best wishes to you!
Ian's Story
Below is Ian's story – thank you Ian for sharing with everyone!
Hi everyone. Very pleased to have found this site. My story is probably quite similar to many others on here. I'm 31 years old, live in England on the East Yorkshire coast, and had ETS (Endoscopic Thoracic Sympathectomy) for excessive palm sweating on the NHS in April 1999, re-done May 2000 as both hands would still sweat profusely at times, and then a lumbar sympathectomy in May 2001 for excessive foot sweating.
Since early 2002, I've had severe compensatory sweating on my back, stomach, sides, and legs. Other surgery side-effects include: Heat intolerance – my whole body constantly feeling overheated, including my face, which leaves me always looking and feeling flushed.
Lack of emotional feeling (for example unable to cry since the operations, even at funerals)
Tiredness and severe loss of energy
Weight gain (linked to loss of energy and inability to cope with heat I would say)
Often feel dehydrated, no matter how much water I drink
Headaches
Burning feeling, especially in the back, but also stomach, chest, legs etc.
Often feel faint because of heat intolerance, even in mild-cool weather
Dizziness
Compensatory sweating makes everyday life extremely embarrassing/difficult. This has led to depression and very low self-esteem, morale and confidence (far worse than pre-surgery)
Now sweat very little (much less than a 'normal' amount) from underarms, face, scalp, forehead and neck. Forehead gets very dry and itchy. Hands and feet are also extremely dry, even after a 60 minute treadmill workout.
I have tried so many things over the last twelve years, such as medications like Avert (Robinul), 1%, 2% and 3% Secure wipes (Robinul), aluminium chloride anti-perspirants such as Driclor, Odaban, and Sweat-Stop.
None of these medications really helped with things like CS (or when they did the side-effects were just horrendous). So, for the past seven years I've tried to just focus on doing everything I can to be healthy and support my nervous system as much as possible, in the feint, feint hope that I can help it heal and recover, to try and get some of my old self back.
I currently do tai chi, which is recommended for all kinds of things including nerve damage (and I've lost a stone in weight this year, so even if it's not helping the nerves it's at least helping with general health!), have acupuncture at a great Chinese medical centre, and take supplements in food form such as omega 3, 6 and 9.
I feel very hurt (even a little bitter if I'm honest) towards the NHS because I was referred by a dermatologist straight to a surgeon (at the age of fifteen) without ever being informed about botox, topical meds, oral meds, or iontophoresis. I'll be convinced to my grave that iontophoresis, a prescription-strength anti-perspirant and some brief counselling (for the years of school-yard name-calling, bullying etc) would have solved my problems without the need for surgery, but hey I guess you can only act on the information presented to you at the time eh.
Anyway, my advice for anyone considering this surgery, would be to not go through with it. I genuinely feel like my quality of life was at least 10 times better sixteen years ago before any of the surgery. I miss days at the seaside in the summer, playing rugby on the hottest days, so so many things. Please try to be thankful for what you DO have, because believe me things can be so much worse.
Thank you to whoever runs the site for providing a place for ETS patients and interested people to share their stories and experience, it's certainly a great thing, and I for one really appreciate it.
Ian
Tom's Story on ETS Side Effects – February 2015
First of all, it really makes me happy to read everyone's story about their sweating problems while growing up… it just feels reassuring to know people who underwent through the same things! Up until this point in my life, I've only known one other person who went through it, a girl I had one date with. It kind of came up in the conversation, and it was definitely plenty to discuss about and help bonding (She used botox, not going for the surgery). All of those times at school, where your hands get the papers wet, being unable to hold things for too long, being bad at tossing the ball because you have a hard time just holding it right… and most of all, the social situations, like field trips as little kids where you're told to hold hands with one other kid to travel in pairs, and everyone's reaction is "I don't want to hold his hand, it's gross"… These develop into social insecurities and lack of self confidence that would take many years to grow out of, if it's even possible to do so, since the damage is already done and old habits are hard to get rid of…
My name is Tom, I'm 26 years old from Israel, and I did my surgery in August 2011, 3.5 years ago. When growing up, I kind of just accepted that there was no solution to my problem… at a later point, around high school, I heard of drionic, imported it (This was a few years before it became officially available in my country), and after many boring tries of just sitting there for one hour being unable to do anything since my feet and palms had to remain pretty motionless… Nothing happened. Sometimes I felt as if the sweating was lessened to a certain extent, other times I was convinced that it was merely my wishful thinking that made it feel so. After all, we're probably all aware that thinking about sweating invokes that tingly feeling right before sweating, just after thinking to ourselves "Huh, I barely noticed that I was hardly sweating"…
Fast forward to the time of the surgery. When talking to the doctor, I was informed there were very few side effects… Mostly compensatory sweating, without knowing where it will pop up, and how this would also stop my sweating from the underarms, but not my feet – as that requires a different procedure that is not performed at the hospital for "cosmetic" needs and is part of a treatment to other symptoms, as the risk for dealing with the sweaty feet through said surgery is far greater than ETS for the sweaty palms. Any other side effect, I was told, is only the result of failures in the procedure itself. The surgeon I had was probably the best in this country, and my dad knew him, so I was alleviated by that factor…
After the surgery, I woke up and had to stay in the hospital for the night (The surgery was in the morning) for monitoring. At that time I didn't really know what to think. The sweating had stopped, and it was weird thinking about it. I had some minor stitches in my underarm, but they were degradable. To this day, there's hardly any scar, and one would have to know exactly what and where to look just to notice the minor cut shape.
For the several months afterwards, I had these "phantom" sweats… every so often, just like sweat would appear before the surgery, I had tingly sensations in my palms and felt as though I was sweating… Only to instinctively wipe my hands on my jeans, and realize there's no sweat to wipe… It felt weird, but very pleasing, since it was a constant reminder that this thing that bothered me my entire life is now only a memory.
These phantom sweats stopped the more I was eventually used to the fact, and more aware of the compensatory sweat… I sweat about the same amount I used to sweat in my palms primarily in the lower back, and somewhat in the butt area. Possibly the feet as well, but I've grown so used to sweating from my feet, that I don't give a second thought to returning home, taking off my shoes and see wet socks. And whenever I eat spicy food (And I love spicy food), I sweat from my forehead… This was kind of something I had taken for a given and felt as it was always the case, but after reading this page it kind of makes me feel like this may not have always been so. Also, I feel the need to drink a lot of water throughout the day, but this has been the case much before the surgery. I was always drinking far more than my friends and colleagues… now I just feel the need to do it instead of just doing it.
So basically, it seemed like I got a fairly decent trade… the problem that caused me great trouble growing up, and left me to this day insecure (It still appears in my body language… for instance, one hand grabs the other, as if to instinctively wipe the sweat on the back of the hand), has been replaced with an assortment of smaller problems that I've learned to deal with in different ways. My back is sweating? I usually wear an undershirt that absorbs a lot of it on hot days, and when it gets worse I bring some spare clothing and deodorant (Since the excessive sweating makes the deodorant wear off after a much shorter time when I still have social activities). The sweat from the but area is hardly visible when wearing Jeans, which luckily is the norm even at work areas. The gustatory sweat is just some "Haha, my body just isn't that great with spicy food no matter how much I love it", and I wipe it with my arm. Nobody makes a deal of it so neither should I feel embarrassed by it. If given a chance, knowing about these things… I'd definitely have chosen the surgery again.
So why am I typing here? Well, for one thing, it was mainly just to get it off my chest, and maybe make someone reading this nice with themselves as there's one more person who shares their story…
The other reason is that in the past two months, around the time winter started, one more side effect popped up, and looking it up I came to this place only to realize that this problem truly is connected to that surgery. The problem is that my hands get cold really easily, and barely able to restore heat. Mainly the fingers. It kind of happens at the feet as well, but it's a much lesser extent of troubling. Even after washing them with hot water, they get cold quickly once again. This mainly seems to occur when I'm idle at my home… when I'm out for the day, I don't notice it. After I work out, it remains warm for a few hours (Even if I'm still wearing short clothing when it's cold). And after a warm shower at the end of the day, the hands remain warm throughout the whole night. But this is still something that has me worried… I don't know the extent of this, like will it occur in the hot summer as well? And most of all… what if other side effect begin to occur as the years go by, as I'm now learning happen to many more?
Hopefully, this long text on my experience with sympathectomy will help others looking for advice before going through this irreversible process. Me? I'd probably still prefer whatever it is I'm going through than what I suffered through for nearly 23 years. But the troubles are plenty, unique to each individual, and the way we handle them are entirely subjective… Regardless, surgery should definitely be the last option. Had I not exhausted other options like drionic, or deemed botox injections too expensive and likely not worth it (Since it would probably work very little if drionic can't do anything), this option wouldn't even surface in my thoughts.