The Autonomic nervous system is made up of the sympathetic system and the parasympathetic system. Think of these systems working together and maintaining a balance that impacts every part of your body! Heart frequency, heart capacity, lumbar function, kidneys, blood vessels, stomach and intestines are just a few examples.
The sympathetic nervous system pushes where the parasympathetic function is more relaxed. The sympathetic chain nervous connects to skin, blood vessels and organs in the body cavity and is located on both sides of the spine which consists of ganglias.
Autonomic Nervous System
The autonomic nervous system most notably kicks in gear during emergency situations that cause stress and requires us to "fight" or take "flight", as well as non-emergency situations that allow us to "rest" and "digest". The autonomic nervous system also provides maintenance of normal internal functions and works with the somatic nervous system. When the body reacts to signals such as danger, it is the sympathetic ganglia that performs functions such as widening the lungs for more oxygen, reduces desire to consume food, sends blood to the brain and increases heart rate.
Nervous System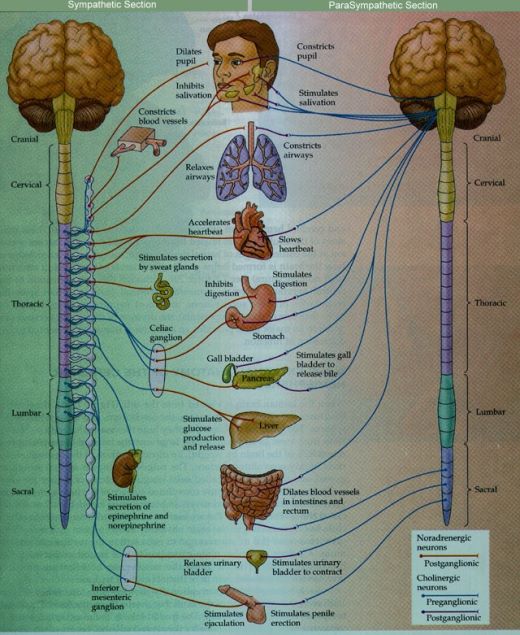 Above is a common picture of the sympathetic nervous system and inner connections. You can see that how complicated the sympathetic chain is and how difficult Endoscopic Thoracic Sympathicothomy is! This is not a matter to be taken lightly!